I know that its been a while since my last report and the best excuse that I can come up with is that I've been pretty busy. I try to get my reports in on Sunday nights so that you can read them on Monday mornings when you get to work. While down in Corpus each winter my Sunday nights just don't seem to have enough time in them for me to get everything done. I fish all day, come in clean up the boat and get it gassed up, iced down, and ready for my Monday clients who are coming in that night. I usually go over, open their house, visit with them and then go to dinner. By the time we finish it's bed time and 5 o'clock comes awfully early. So, my fishing report gets put off until I finally have a Sunday night with a bit of free time in it. Tonight I have about 45 extra minutes so here goes.
The past several weeks have been hit or miss for fishing down here. Disappointing would be a better way of describing things. Water temperatures warm up into the mid 60s for a few days and then a new front hits. I'm not even going to talk about the wind except to say that I've learned to dislike a strong east wind down here about as much as I do when I'm fishing in Matagorda. Anyway, I looks like my last two weeks of fishing here will,at least have the water temps tickling the 70s which will get the top water bite going. We've been catching fish on top with fair consistencey and it should only get better. I'm looking forward to the next two weeks but I'm also looking forward to my return to Matagorda on April 12.
Today was a prime example of how the fishing can be when you have good conditions. I had Johnny Mac's guys in and after anfairndaynon Saturday, today we boxed 26 trout and an eight pound redfish with the biggest trout tipping the scales at 5 pounds.

Anyway, enough complaining. I've loaded some pictures from the past several weeks for your viewing pleasure and will try to get another hopefully exciting report in next week.
Like I said, I'm back,in Matagorda after the 12th and my schedule is filling up fast. There are a lots of folks interested in tripletail and I've booked quiet a few dates for that. The tails should be making an appearance sometime in May and I plan to get after them with a vengeance. If you want to be a part of this then you had better call me soon. Trout and redfish will be firing up also.

To book a trip with me, call 281-450-4037 or email me at tcountz@sbcglobal.net. You can look me up on the Webb at www.matagordafishing.com. Hope you have some great days on the bays.

Thanks
Tommy Countz
PO Box 637
Matagorda, Tx 77457
281-450-4037
---


www.MatagordaFishing.com
tcountz@sbcglobal.net
---
---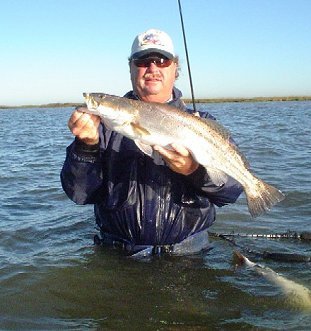 About the MatagordaBay. com featured fishing report. For many years I have given fishing reports thru news papers, magazines, over the radio, and over the phone. Now with the Computer Age, the Internet is a wonderful avenue for me to continue these reports. I promise that in my reports each week I will tell you exactly how it is (or was) with no candy coating on anything.

My sponsors have come together to bring you my weekly fishing report:

Laguna Custom Rods now builds the rods that I use to do battle with trout, redfish, and big tripletail. I'm convinced that we build the most sensitive rods on the market meeting each fisherman's individual needs based on the type fishing that he or she does. I'm so convinced that I bought a piece of the company which gives me more input on rods than ever before. Customer satisfaction is of the utmost importance to Laguna and we stand behind our produce. If you mention that you read about Laguna Rods on my report, we will knock off $50 on any custom rod or $20 off of any of our Liquid series rods.

Harbor Bait and Tackle is the Academy of Matagorda with a great selection of tackle, baits, and supplies to make your day on the water much more enjoyable. Open seven days a week at 5:30am, they work hard to give us the greatest bait and tackle shop on the Gulf Coast.

Midcoast Products make the innovative new line of corks that I use anytime that my customers use live bait or fish artificial under a cork. They rarely foul and give off a sound that entice fish to slam your bait.

Busha Boat Works of bay City take care of my boats and motors and keep me on the water. They are the top Suzuki dealership in Texas and work hard to give their customers honest, dependable service. More and more top guides on the Texas coast are putting Suzuki motors on their boats. If Don or Tim tell you that they will take care of your needs, you can take it to the bank.

Gulf Coast Boats of Pasadena builds my 23 ft. Kat that allows me to run the skinny waters of Texas and stay dry and comfortable. From their 225 ft. Variside to their 18 ft. Lowside they make a boat to fit your boating needs. Call Susan Gilley and talk to her about a Gulf Coast and the buy it at Busha boat Works.