This week is going to be a quick report. Basically the order of business this past week was small trout. Monday and Tuesday Ronnie Bose, Jerry West, Mark Brune, and Clint Hewitt were with me on a trip to Baffin. We made several long tough wades and mainly caught lots of small trout. Our high point was when Ronnie had a big trout come out of the water and roll on a top water taking it under and then letting it float to the surface empty.
Friday and Saturday were pretty much the same. Friday we waded Baffin catching small fish and the came back to the King Ranch shore where we managed to catch a bunch more small trout boxing around eight keepers.

Friday was my son Stephen's 38th birthday. I can't tell you how very proud of him I am. He is a good man, fine son, and exceptional father. From the time he was big enough to hold a fishing pole, we spent lots of time fishing together. When he was nine I bought a float tube with a seat in it and dragged him all over East and West Matagorda Bays. When he was in high school we spent less time fishing due to his new interests. I always hoped that as when he had kids of his own he would share some of the things that I had introduced him to with his kids. He lives in Huntsville and has a 12 year old daughter, Maci, and an 8 year old son, Hunter, and a 6 year old son, Luke. Those three kids live to fish and he takes them fishing at Huntsville State Park where my daughter in law, Miranda works, every chance that he can. This makes me very happy and I'm proud of him for exposing them to the outdoors. Happy birthday to a wonderful son whom I love very much.

This week I get a break from chasing fish and get an opportunity to talk a lot about fishing. From Wednesday thru next Sunday I'll be at the George R. Brown at the Spring Fishing Show. My booth will be in its usual spot in conjunction with our Laguna Custom Rod booth. I'll be doing a seminar on Wednesday at 6 pm and another on Saturday at 12:45. I'll be talking about spring and summer fishing in Matagorda and will be giving away one of our Laguna Liquid rods to one person that attends one of my talks. I'll also give away some goodies that some of my sponsors will furnish. Come by the show and look at our rods and let's talk some fishing.

As soon as the show is over I'll be back in Corpus for four more weeks of fishing. I've already started booking trips in Matagorda for this spring and summer. Tripletail should be moving into West Bay sometime in May and this year I plan on going after the state record. Last year in the Oilman's Tournament we missed the record of 33# 5oz with a 32 lb. 7oz. tail. If you want a shot at one then you need to get on my books early.

If you'd like to be a part of my fishing adventures, call me at 281-450-4037 or email me at tcountz@sbcglobal.net. You ca also pull me up on the Webb at www.matagordafishing.com. Have some great days on the bays.







---


www.MatagordaFishing.com
tcountz@sbcglobal.net
---
---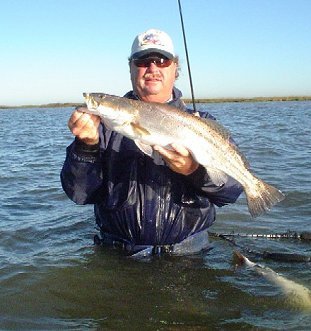 About the MatagordaBay. com featured fishing report. For many years I have given fishing reports thru news papers, magazines, over the radio, and over the phone. Now with the Computer Age, the Internet is a wonderful avenue for me to continue these reports. I promise that in my reports each week I will tell you exactly how it is (or was) with no candy coating on anything.

My sponsors have come together to bring you my weekly fishing report:

Laguna Custom Rods now builds the rods that I use to do battle with trout, redfish, and big tripletail. I'm convinced that we build the most sensitive rods on the market meeting each fisherman's individual needs based on the type fishing that he or she does. I'm so convinced that I bought a piece of the company which gives me more input on rods than ever before. Customer satisfaction is of the utmost importance to Laguna and we stand behind our produce. If you mention that you read about Laguna Rods on my report, we will knock off $50 on any custom rod or $20 off of any of our Liquid series rods.
Norton Lures furnishes me with the ammunition that I need to do battle on a day to day basis with big trout and line stretching redfish. I'm convinced that if everyone fished daily with a Black Magic Norton lure, we would soon have to take up golf because there wouldn't be any fish left to catch.
Harbor Bait and Tackle is the Academy of Matagorda with a great selection of tackle, baits, and supplies to make your day on the water much more enjoyable. Open seven days a week at 5:30am, they work hard to give us the greatest bait and tackle shop on the Gulf Coast.
Midcoast Products make the innovative new line of corks that I use anytime that my customers use live bait or fish artificial under a cork. They rarely foul and give off a sound that entice fish to slam your bait.
Busha Boat Works of bay City take care of my boats and motors and keep me on the water. They are the top Suzuki dealership in Texas and work hard to give their customers honest, dependable service. More and more top guides on the Texas coast are putting Suzuki motors on their boats. If Don or Tim tell you that they will take care of your needs, you can take it to the bank.
Gulf Coast Boats of Pasadena builds my 23 ft. Kat that allows me to run the skinny waters of Texas and stay dry and comfortable. From their 225 ft. Variside to their 18 ft. Lowside they make a boat to fit your boating needs. Call Susan Gilley and talk to her about a Gulf Coast and the buy it at Busha boat Works.